Emma González, 18, a senior at Marjory Stoneman Douglas High School, at North Community Park on Sunday, Feb. 18, 2018. González became a viral sensation after videos of her impassioned speech at an anti-gun rally in Fort Lauderdale flooded social media. Now, she is helping to lead the #NeverAgain movement with her fellow classmates. "It's funny. I didn't even have a Twitter account before two hours ago and it was trending on Twitter all day yesterday," González said. "I have become somewhat of a spokesperson for this, but we're all saying the same thing. That's why we teamed up together like this because we know each other, we love each other very much and we all agree on the same stuff. We're happy that all of us are still alive and we're gonna make sure it stays that way for the people in our neighboring communities. For our neighbors, our cousins, this generation, not the next generation because the next generation will never have to worry about this because of us."
 
Mary Jane Robinson poses for a portrait at the Naples Daily News studio on Thursday, Feb. 9, 2017. As a ghost writer, she has written more than 100 memoirs for a number of famous people including a cabinet member in the Reagan administration, an Emmy Award-winning actor and the ringleader of the "Dinnertime Burglar Gang."
Amal Bernal at her home in North Naples on Wednesday, August 1, 2018. Bernal's ex-husband abused her physically, emotionally and financially for twenty years. Financial abuse, defined as 'coercive control' by the Centers for Disease Control, is often the unseen and debilitating perpetuation of all other types of abuse. "To me, it's just as bad as any other kind of abuse because it's how they control you," Bernal said.
Connie Bettinger-Hennink, 53, dressed as Dr. Seuss' iconic character Cat in the Hat, poses for a portrait in her Golden Gate home on Tuesday, Dec. 20, 2016. For the past 25 years, Connie has visited schools and libraries in Southwest Florida as a Cat in the Hat reenactor to share the joys of reading.
Rhonda Nocera, dressed as Miss Fortune, stands in her decorated backyard in the Lake Park neighborhood of Naples, Florida on Monday, Oct. 31, 2016. Nocera and her family have dressed and decorated their house the same way for the past 10 years.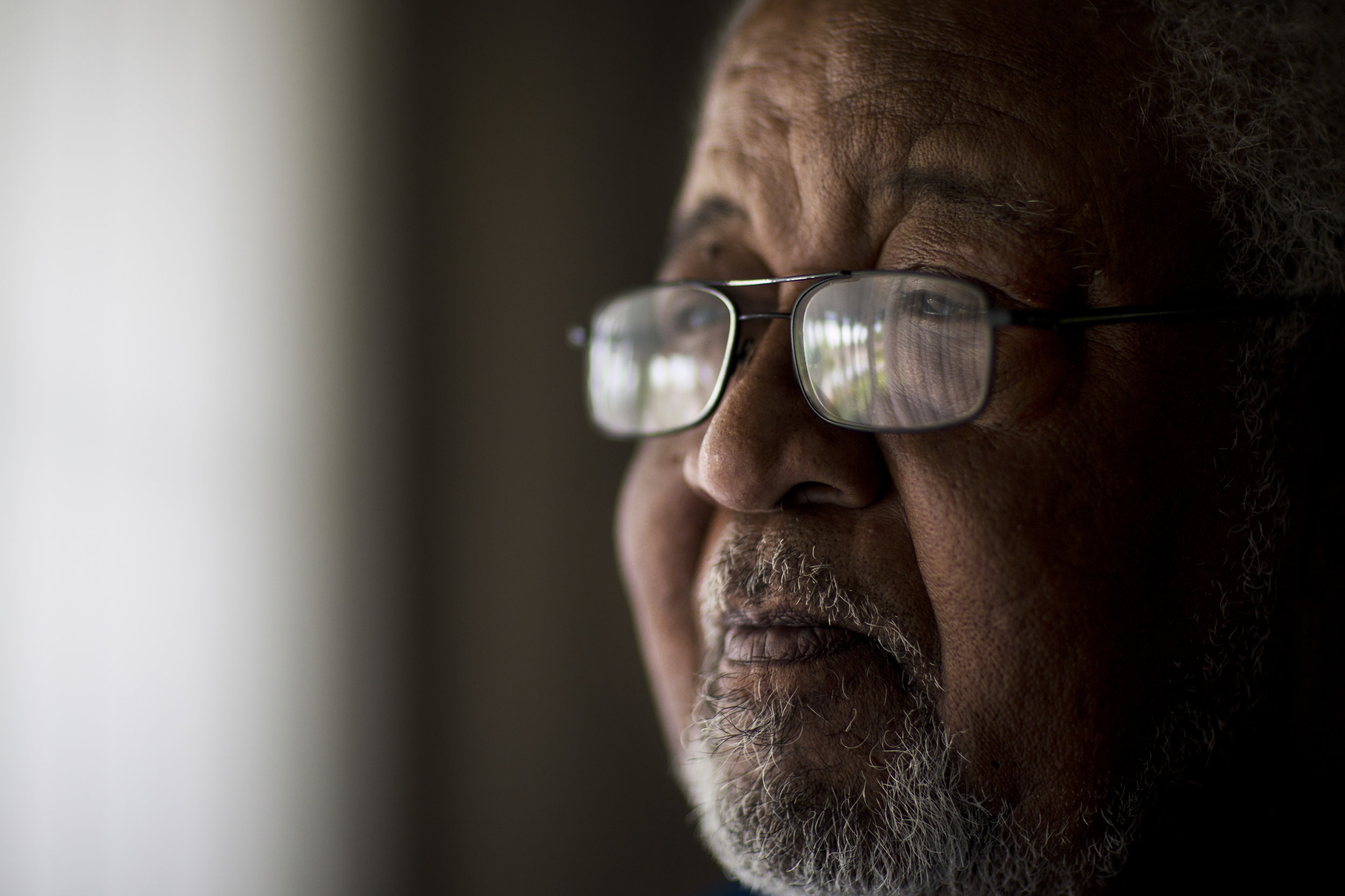 Willie Anthony at his home in River Park on Thursday, July 13, 2017. "I have another acre of land somewhere else that I could probably build a larger house, but I could never leave River Park," says Willie. "I love my neighborhood. I've put too much into it to leave."
Alexandra Igoe, 16, left, and Shirley Vilsaint, 16, dressed in character as Velma Von Tussle and Little Inez Stubbs respectively, pose for portraits during their Hairspray rehearsal on Sunday, Nov. 13, 2016. Hairspray deals with several themes, most notably race and the fact that all people should be treated equally despite differences in ethnicities, color or appearance. When asked what they've learned working alongside one another, Alexandra said, "I've never done a show like this before, but I've never seen kids with so much dedication, talent and integrity. They just put everything into everything they do."
"I've learned that stereotypes are just stereotypes," states Shirley. "I came in basically like, 'Oh my gosh, these white people aren't going to know how to dance.' But then a lot of them dance better than I do. So something's wrong with these stereotypes cause whoever made it up, doesn't have it right."
Doris Wolfe-Woods, 65, has lived in New Straitsville, Ohio since she was 2-years-old, only moving once for a better paying job in Florida so she could support her family. Doris has 5 children, 13 grandchildren and 6 great-grandchildren, along with 17 goats, 6 dogs, 3 cats and a few chickens. "They are the reason I'm as fit as I am today. They keep me busy and they keep me active," Doris explains. Wednesday, Nov. 12, 2014.
Angel Swart, 9, at her home in Nelsonville, Ohio. Angel was placed with her parents, Larry and Karen Swart, through foster care when her biological mother couldn't care for her as an infant. After two and a half years, she was officially adopted into the Swart family, which now includes 11 children, 5 of which still live at home. When asked about his children, Larry said, "I wouldn't want life any other way. I've thought about it, how life would be if it were just me, Karen and Matt (their biological son) … no, no that won't work. You can't unlove your babies."
Julia Moss and her back tattoo. 2015.
Conceptual portrait of Keith Rutowski. 2014.